Providing Quality Safety Products
Worldwide Since 1921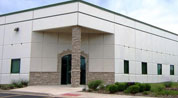 Established in Chicago, Illinois in 1921 and presently located in McHenry, Illinois since 1996, Standard Safety Equipment Company has been serving the needs of industry through the manufacture and distribution of personal protective equipment. Initially, Standard Safety manufactured and sold a range of personal safety equipment. Beginning in 1949, the Company began manufacturing protective clothing, currently sold under the StaSafe® trademark.
One of the founding principles of the Company has been to make products the way the customer wants it. This principle has guided the Company through many decades and is supported by our continuing efforts to meet the unique needs of each individual customer. Our willingness and ability to offer customized solutions and products to our customers of all sizes allow us to carry out our mission and we would welcome the opportunity to meet your needs.
Customize It!
DON'T SEE WHAT YOU
ARE LOOKING FOR?
We pride ourselves on meeting the unique challenges and design requirements of our customers. We understand that our customers may have specialized applications. If you do not see exactly what you need, please contact us, we will work with you to meet your requirements.
CONTACT US